Yom HaShoah
April 24, 2017- 27 Nissan 5777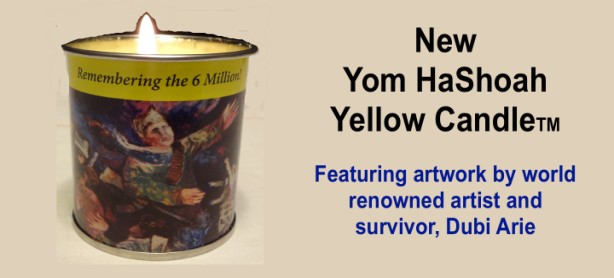 Yellow Candles are intended for use on Yom HaShoah
and other important Holocaust remembrance dates.
Candles are provided by FJMC to local synagogues,
men's clubs, brotherhoods, sisterhoods, museums,
churches, schools and other related organizations.
Resources
Order Forms for NNJR organizations:
BULK CASE SHIPMENT ORDER FORM - Bulk
PRIOR to Tuesday, January 17, 2017 use the first page of the form to receive a discount, candles will be distributed at the Schreiber Warehouse in Piscataway (date to be advised)
AFTER Tuesday, January 17, 2017 use the second page of the form. Candles will be sent to the address you specify
DIRECT-MAIL ORDER FORM - Direct
Yellow Candles are individually mailed in a white cardboard box to members of your congregation or organization. Each box contains a cover letter from your congregation or organization, including a tear-off form for contributions along with a poem, a meditation and a windowed return envelope
Order must be received no later than Thursday, February 18, 2015
Yellow Candle pickup
Evily Atlantic Warehouse
8 Corporate Pl
Piscataway, NJ
Date: 1/29/2017
The hours will be 9:00 – 11:30 AM.
Minyan at 9:00, then bagels and coffee, then distribution of the candles.
Call Larry Klioze to make arrangements if you cannot make it 732-735-1286