STU MANTEL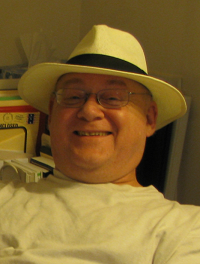 This year, the Northern New Jersey Region's Man of the Year is Stuart Mantel, from Congregation Neve Shalom, Metuchen. Stu first became involved with the local Men's Club in 1998, as a way to help support the congregation and the community. One of his first jobs was grilling steaks on the 19th hole of the annual golf outing.
Since then, he has taken on multiple roles, in the club, chairing the World Wide Wrap and Yellow Candles programs as Vice President of the club and as President of the club.
Stu is proud of the accomplishments of the club. As a consequence of the hard work of the club's members, the Neve Shalom Men's Club has been recognized as a FJMC Quality Club for the past 7 years.
It has always been important that the Club's activities be a mix of social and religious activities. Including the clubs current program "Touchdowns and Torah" where a group of men meet, every Monday evening to learn a little Torah, eat some pizza, and watch a sporting event on TV. Originally scheduled to end with the football season, last year's program extended into the summer, with the name changing to fit the sport.
In addition to his work with the Men's Club, Stu has been an active member of the Neve Shalom Community. He is a regular at the morning minyan, Shabbat and Holiday services, and in the Adult-Ed classes. Stu has served on the Congregation's board for 6 years.
There is an old saying that no good deed goes unpunished. As recognition for his work on the local club level, Stu was asked, and has served, on the NNJR Regional board, as a trustee and recording secretary. He is looking forward to returning to the regional board when his current term as club president is completed.
Stu's family is the center of his life. Living with his wife of 31 years, Jody, and their son Samuel, in Woodbridge, NJ.
When he is not busy with Men's Club or Synagogue business, Stu works as a project management consultant in the technology industry, working at companies throughout the New York/New Jersey area.
Stu grew up in Passaic, NJ. He received a BA from Kean College of New Jersey, and an MBA from St. John's University.