Denis Vogel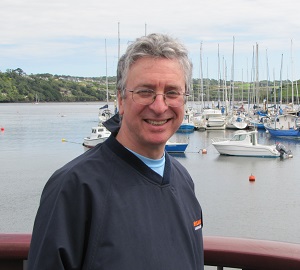 Denis Vogel was born in the Bronx during the height of the tumultuous Baby Boom era to an itinerant ophthalmologist from Brooklyn and OBGYN from Mexico. At the tender age of 14 months he was yanked from the security of the urban jungle to the untamed wilds of Tenafly in the New Jersey suburbs. A resourceful child, he adapted quickly to his new environment.
Denis's formative school years were spent in the Tenafly public school system and the Temple Emanu-el of Englewood Hebrew School where he became Bar Mitzvah and later graduated Hebrew High. So devastated by the loss of their prized pupil, Temple Emanu-el eventually relocated to Closter to hide its despair.
After High School Denis attended Tulane University where he waited tables, was a disk jockey on college radio and also managed the time to earn his BS degree. He then went on to find a career in the world of electrical supply, specifying commercial lighting and Low voltage switchgear.
It was a chance blind date where Denis met the love of his life Carla. In spite of his mother's and Carla's aunt's best efforts, they fell for each other anyway. Carla and Denis have been married for 27 years and eventually settled in Ridgewood, NJ. They have a 19 year old son, Jerry (former YOY) who is now a freshman at Northeastern University studying computer science.
Denis's career in the Jewish community started when a fellow synagogue member at Temple Israel and JCC in Ridgewood conned him into going to a Men's club meeting with the promise of post meeting adult beverages. Denis eventually worked his way up through the ranks becoming president of the Brandeis Men's club taking part in projects such as Sukkah erection, planning and running Casino Night and other synagogue support activities.
After Denis's BMC term he went on to bigger and better things with the promise of greater power corrupting his judgment. He made the mistake of missing a meeting which caused him to eventually become Synagogue president. This position led to his getting involved with the Jewish Federation who helped him to form the Northern NJ Jewish Academy (NNJJA) the region's first multi-synagogue collaborative Hebrew School.
Having no new local ambitions, Denis set his sights out on regional activities becoming a regional Vice President of the NNJR-FJMC board where he is the Northern Rosh . This past summer he also served as Ritual Co-chair for the international convention.
Denis is also an avid skier and biker (cycler? cyclist? Two wheels, no motor). Cycling has also caused him to get involved in the annual JFCS" Wheels for Meals" charity ride by being on both the ride committee and fielding a team. This ride provides funds to feed those less fortunate in our community. Cycling is also the impetus by which he and others have started a Men's club Facebook group supporting men's health and weight loss. Please see me if you are interested in joining the group.
I am humbled by the honor of being selected as regional MOY. Please join me and all the MOYs to be at this year's regional retreat in June.